inlet 3/8", 1/2" or 3/4" - outlet 1/2" or 3/4" - seat orifice Ø12 mm - set pressure up to 40 bar g.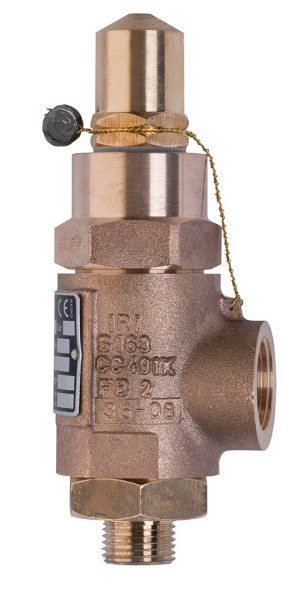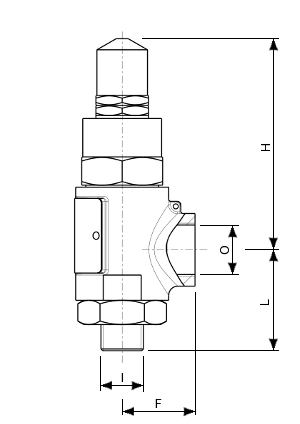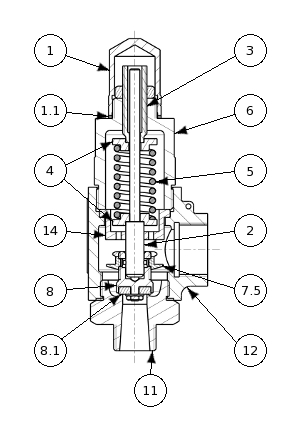 Description
Bronze safety valve without lever, with screwed inlet and threaded outlet in its standard version. The tightness is ensured through a very neat lapping of the seat and a renewable soft composition disc made of PCTFE. A wide range of springs enables an accurate pressure setting for this PED 97/23/CE Category IV Group 2 certified saftey valve.
Applications
Designed for use on all air components gases in its standard version, this safety valve offers a wide range of options which allows the handling of a large variety of fluids. This safety valves is extensively is extensively used in every kind of industrial projects: liquid storage tanks, air separation units, petrochemical plants, dangerous products transportation, ...
General features
Bronze construction
Safety valve's behaviour adjustable thanks to a blow-down ring
The sturdy design, the high-quality of the selected materials and the high-performance components of this safety valve provide to it multi-purpose characteristics
Inlet and outlet as per ISO R228 or ASME/ANSI B2-1
Alternatives
PTFE (Teflon™) or FPM 20471/70 (Viton™) soft plug insert
Metal/Metal sealing
Flanged inlet and outlet
Butt welding fittings at inlet and/or outlet
Internal trim made of nickel alloy (#Monel™)
Shoulder seat made of nickel alloy (Monel 400™)
Cap with lever
Gas-tight construction
... (see codification)
Dimensions in mm
Weight (W) in kg
Inlet
L
Outlet
F
H
W
0 < Ps < 27
27 < Ps < 40
3/8"
G
50
1/2" (G or NPT)
36
106
129
1,0
NPT
55
1/2"
G
50
1/2" (G or NPT)
36
106
129
1,0
NPT
57
3/4"
G
53
1/2" (G or NPT)
36
106
129
1,1
NPT
57
3/8"
G
50
3/4" (G or NPT)
36
106
129
1,0
NPT
55
1/2"
G
50
3/4" (G or NPT)
36
106
129
1,0
NPT
57
3/4"
G
53
3/4" (G or NPT)
36
106
129
1,1
NPT
57


Ps: Set pressure (bar g.)




For other gases (MW): multiply the air rated flow by sqrt[29/MW]
For other temperatures (T): multiply the air rated flow by sqrt[273/(T+273)] - T in °C
Standard materials
Rep
Designation
Standard materials






1
Cap
EN 1982
CuSn5Zn5Pb5 CC491K
B505.836
1.1
Gasket
PTFE
2
Stem
EN 10088-3
X8CrNiS18-9 1.4305
AISI 303
3
Adjusting screw
EN 12164
CuZn39Pb3 CW614N
B124-C37700
4
Spring plate
EN 12164
CuZn39Pb3 CW614N
B124-C37700
5
Spring
EN 10088-1
X10CrNi18-8 1.4310
AISI 302
6
Lantern
EN 1982
CuSn5Zn5Pb5 CC491K
B505.836
7.5
Blow-down ring
EN 12164
CuZn39Pb3 CW614N
B124-C37700
8
Plug/b>
EN 12164
CuZn39Pb3 CW614N
B124-C37700
8.1
Composition disc
PCTFE
11
Shoulder seat
EN 10088-3
X2CrNiMo17-12-2 1.4404
A182 F316L
12
Body
EN 1982
CuSn5Zn5Pb5 CC491K
B505.836
14
Guide
EN 12164
CuZn39Pb3 CW614N
B124-C37700
| 7 | 7 | 0 | 1 | 0 | 0 | - | X | X | X | - | 00 | 00 | 00 | - | DN | .. | PN | .. |
| --- | --- | --- | --- | --- | --- | --- | --- | --- | --- | --- | --- | --- | --- | --- | --- | --- | --- | --- |
| 7 | 7 | 0 | 1 | 0 | 0 | - | X | X | X | - | 00 | 00 | 00 | - | DN | .. | PN | .. |
| --- | --- | --- | --- | --- | --- | --- | --- | --- | --- | --- | --- | --- | --- | --- | --- | --- | --- | --- |
| Value | Plug material |
| --- | --- |
| 1 | PTFE disc |
| 2 | PCTFE disc |
| 5 | Metal plug (copper or nickel alloys) |
| 6 | Metal plug (st. st.) |
| 7 | 7 | 0 | 1 | 0 | 0 | - | X | X | X | - | 00 | 00 | 00 | - | DN | .. | PN | .. |
| --- | --- | --- | --- | --- | --- | --- | --- | --- | --- | --- | --- | --- | --- | --- | --- | --- | --- | --- |
| Value | Inlet connection |
| --- | --- |
| 2 | Screwed end |
| 3 | Flanges |
| 4 | Butt welding fitting |
| 7 | 7 | 0 | 1 | 0 | 0 | - | X | X | X | - | 00 | 00 | 00 | - | DN | .. | PN | .. |
| --- | --- | --- | --- | --- | --- | --- | --- | --- | --- | --- | --- | --- | --- | --- | --- | --- | --- | --- |
| Value | Pressure rating |
| --- | --- |
| 1 | PN16 & class 150 |
| 2 | PN25 |
| 3 | PN40/50 & class 300 |
| 7 | 7 | 0 | 1 | 0 | 0 | - | X | X | X | - | 00 | 00 | 00 | - | DN | .. | PN | .. |
| --- | --- | --- | --- | --- | --- | --- | --- | --- | --- | --- | --- | --- | --- | --- | --- | --- | --- | --- |
| Value | Option |
| --- | --- |
| E | ATEX CE Ex II 2G/D |
| 7 | 7 | 0 | 1 | 0 | 0 | - | X | X | X | - | 00 | 00 | 00 | - | DN | .. | PN | .. |
| --- | --- | --- | --- | --- | --- | --- | --- | --- | --- | --- | --- | --- | --- | --- | --- | --- | --- | --- |
| Value | Option |
| --- | --- |
| 80 | Spacer |
| 85 | Butt welding fitting at outlet |
| 86 | Collected outlet |
| 90 | Regular bonnet |
| 92 | Gas tight body and bonnet |
| 95 | Gas tight cap with lever |