from DN8 to DN50 - from PN10 to PN40 - from -200°C to +120°C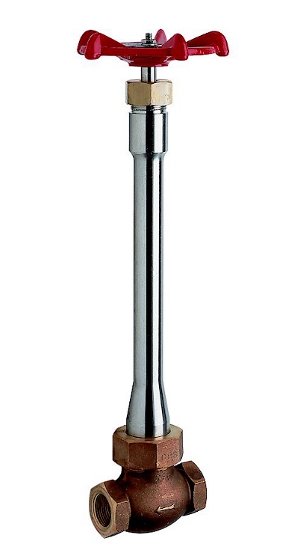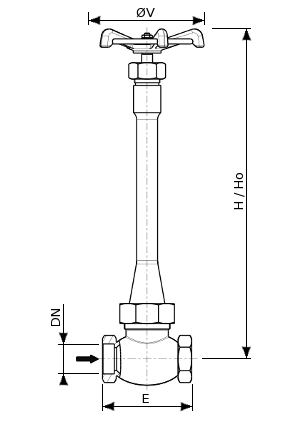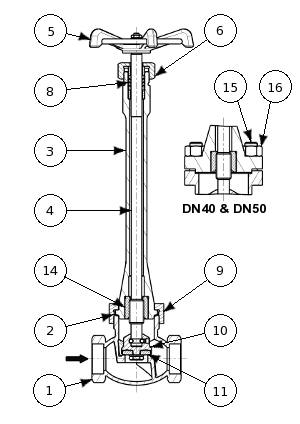 Description
Bronze #CuSn manual globe valve with extended bonnet and threaded ends in its standard version. The bubble-tight shut-off is ensured through an integral seat and a renewable soft composition disc.
Applications
Designed for use on all air components gases in its standard version, this valve offers an economical solution for the handling of a large variety of fluids within small pipes (DN<=DN50) and for small pressure ratings (PN<=PN40). This valve is extensively used in every kind of industrial projects: air separation plants, petrochemical plants, dangerous products transportation, ...
General features
the use of a stainless steel cryogenic extension (bonnet and stem) reduces the calorific conduction between the very low temperatured flowing medium and the packing. This ensures perfect tightness of packing in service conditions.
the sturdy design, the high-quality of the selected materials and the high-performance components of this valve provide to it multi-purpose characteristics.
Alternatives
Extension length upon demand
Metallic plug, throttling plug
Socket-welding ends or flanged ends
Pipe stubs prepared with butt-welding ends
Fire safe construction
Reinforced packing gland
Lockable handwheel
Actuated valves (fails open / fails closed)
... (see codification)
Dimensions in mm
Weight (W) in kg
DN
PN
E
H
Ho
ØV
W
8
Up to 40
52
211
218
80
0,8
12
Up to 40
58
211
219
80
1,0
15
Up to 40
65
357
365
80
1,4
20
Up to 40
84
364
375
125
2,2
25
Up to 40
98
363
380
125
2,7
32
Up to 40
110
366
383
125
3,4
40
Up to 40
120
456
474
125
7,3
50
Up to 40
145
479
499
160
10,3
Standard materials
Rep
Designation
Standard materials
1
Body
DN<=DN32
DN40 & DN50
NF EN 1982
NF EN 1982
CuSn5Pb5Zn5-C CC491K
CuSn12-C CC483K
-
B505 C90700
2
Body gasket
Graphite + 316L
3
Bonnet
EN 10088-3
X8CrNiS18-9 1.4305
AISI 303
4
Stem
EN 10088-3
X8CrNiS18-9 1.4305
AISI 303
5
Handwheel
AS13 Y30
6
Packing nut
NF EN 12164
CuZn40Pb3 CW614N
B124-37700
8
Packing
PTFE (Teflon™)
9
Union nut
DN<=DN32
DN40 & DN50
NF EN 1982
-
CuSn7Pb6Zn4-C CC493K
-
B505 C93200
-
10
Plug
NF EN 1982
CuSn7Pb6Zn4-C CC493K
B505 C93200
11
Composition disc
PTFE (Teflon™)
14
Screw
NF EN 1982
CuSn7Pb6Zn4-C CC493K
B505 C93200
15
Stud
DN<=DN32
DN40 & DN50
-
EN 10269
-
X5CrNiMo17-12-2 1.4401
-
A320 GrB8M
16
Nut
DN<=DN32
DN40 & DN50
-
EN 10269
-
X5CrNi18-10 1.4301
-
A194 Gr8
| 1 | 6 | 0 | 1 | 0 | 0 | - | X | X | X | - | 00 | 00 | 00 | - | DN | .. | PN | .. |
| --- | --- | --- | --- | --- | --- | --- | --- | --- | --- | --- | --- | --- | --- | --- | --- | --- | --- | --- |
| 1 | 6 | 0 | 1 | 0 | 0 | - | X | X | X | - | 00 | 00 | 00 | - | DN | .. | PN | .. |
| --- | --- | --- | --- | --- | --- | --- | --- | --- | --- | --- | --- | --- | --- | --- | --- | --- | --- | --- |
| Value | Plug material |
| --- | --- |
| 1 | PTFE disc |
| 2 | PCTFE disc |
| 5 | Metal plug (copper alloy or nickel alloy) |
| 6 | Metal plug (st. st.) |
| 1 | 6 | 0 | 1 | 0 | 0 | - | X | X | X | - | 00 | 00 | 00 | - | DN | .. | PN | .. |
| --- | --- | --- | --- | --- | --- | --- | --- | --- | --- | --- | --- | --- | --- | --- | --- | --- | --- | --- |
| Value | End connections |
| --- | --- |
| 1 | Threaded ends (Gaz or NPT) |
| 3 | Flanged ends |
| 4 | pipe stubs prepared with butt welding ends |
| 5 | Socket welding ends |
| 1 | 6 | 0 | 1 | 0 | 0 | - | X | X | X | - | 00 | 00 | 00 | - | DN | .. | PN | .. |
| --- | --- | --- | --- | --- | --- | --- | --- | --- | --- | --- | --- | --- | --- | --- | --- | --- | --- | --- |
| Value | Pressure rating |
| --- | --- |
| 1 | PN16 & class 150 |
| 2 | PN25 |
| 3 | PN40 & class 300 |
| 1 | 6 | 0 | 1 | 0 | 0 | - | X | X | X | - | 00 | 00 | 00 | - | DN | .. | PN | .. |
| --- | --- | --- | --- | --- | --- | --- | --- | --- | --- | --- | --- | --- | --- | --- | --- | --- | --- | --- |
| Value | Option |
| --- | --- |
| E | ATEX CE Ex II 2G/D |
| G | Graphite packing |
| J | Reinforced packing gland |
| 1 | 6 | 0 | 1 | 0 | 0 | - | X | X | X | - | 00 | 00 | 00 | - | DN | .. | PN | .. |
| --- | --- | --- | --- | --- | --- | --- | --- | --- | --- | --- | --- | --- | --- | --- | --- | --- | --- | --- |
| Value | Option |
| --- | --- |
| 01 | Screw down check valve |
| 03 | Throttling plug |
| 25 | Special extended bonnet length |
| 30 | Limit switch open |
| 31 | Limit switch closed |
| 32 | Limit switch open and closed |
| 60 | Handwheel lock up device. |
| 65 | Electrical actuator |
| 67 | Spring return pneumatic actuator (air to close) |
| 68 | Spring return pneumatic actuator (air to open) |